Our Exclusive 5-Step Process
---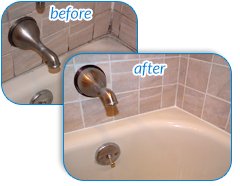 The GroutLikeNew™ grout cleaning and renewal system uses an exclusive 5-step process to clean and seal old, stained, damaged grout and caulking to look like new. We'll restore your grout to its original color – or change it for a whole new look. And all for a fraction of the cost of replacement!
Step 1: Our powerful cleaning system uses only environmentally friendly, approved alkaline cleaners to deep clean your grout and tile to remove dirt, stains, mildew, wax, or other residue build-up. We NEVER use steam, pressure washers, or hard brushes – these can damage your grout and tile!
Step 2: Next we identify any areas needing repair. These include missing,
crumbling or cracked grout or loose or missing tiles (client responsible for
supplying replacement tiles.) These are repaired with the highest quality
materials to insure no water can penetrate the tile surface, damaging your grout
in the future.
Step 3: Mold and stains in grout lines can build up over many years, making it
difficult to return them to their original color just by cleaning alone. In this case
we recommend our epoxy-based, color sealer to restore the original color (or any
color you specify) and provide a barrier against future stains, mold and mildew.
The result is clean, uniform, moisture-proof grout lines that with proper care will
keep their like-new look for years to come.
Step 4: Hand clean the tile again to remove sealer residue or "haze".
Step 5: After your grout is color sealed we replace any yellowed, cracked, or
moldy caulk (the rubber-like material where a shower wall meets the floor, or
around the perimeter of a bathtub.) We'll even match the color of your newly
sealed grout lines for a seamless, elegant look.
Call 855-55-GROUT (855-554-7688) now for your
free estimate
. See for yourself
just how beautiful your tile floors, countertops and walls can be once more!